Importance of Human Resource Management
Importance of hrm: The success of any organization depends on the effectiveness of its human resource management. HRM is responsible for recruitment, selection, transfer, promotion and training to manage disputes, which maintains a healthy work-life balance, and all payroll responsibilities. Therefore, the importance of human resource management in an organization is immense.
Human Resource Management is the process of strategically aligning and integrating the work of human and organisational resources to achieve the desired result.
Human Resource Management is the control of resources needed to make an organization a prosperous enterprise.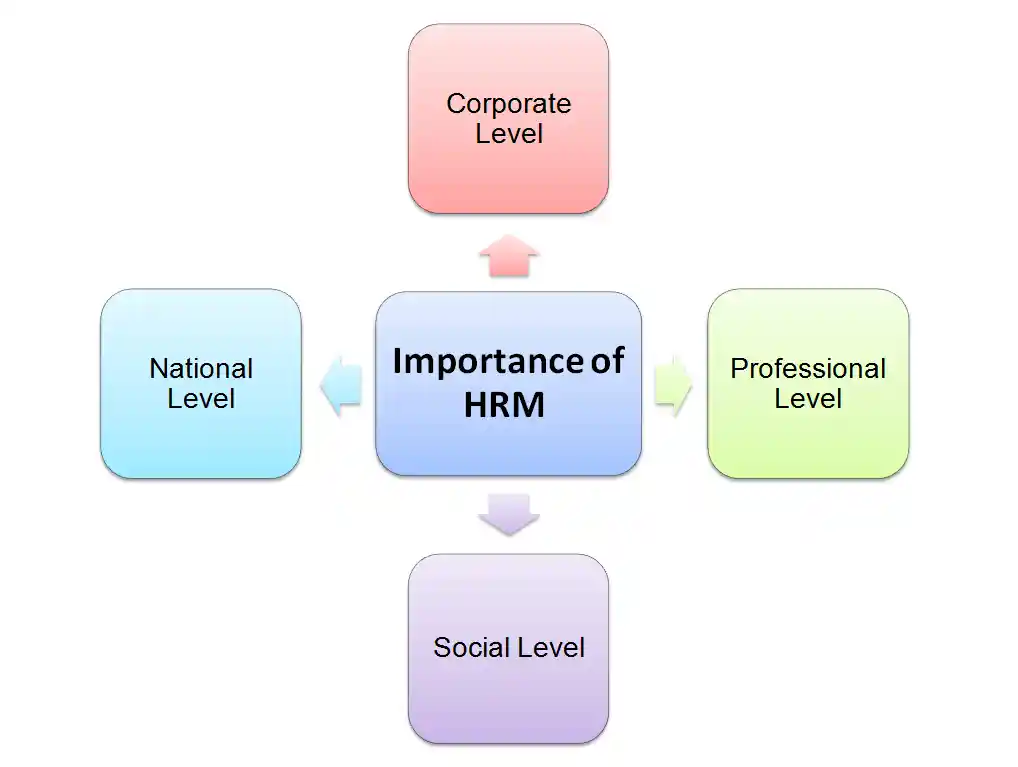 Importance of HRM – Human Resource Management
The Importance of Human Resource Management exists at four different levels, which are as follows:
1) Corporate Level
2) Professional Level
3) Social Level
4) National Level
1) Corporate Level: An organization needs to perform their work effectively and efficiently, hence they need human resource management to do so. Human resource management helps an organization in the following manner described as follows :
i) Gaining voluntary cooperation from the employees by motivation, participation, grievance handling, etc.
ii) Strengthening employees by building and improving their skills, correcting their attitude by motivation, performance appraisal, training, and development, etc.
iii) With the use of HRM an organization can make the optimum use of the organization's most valuable human resource training and development programs.
iv) HRM grants a team of talented, loyal and devoted employees to an organization for the future.
v) HRM is fully focused on the recruitment and selection of those employees who are eligible and skilled in their work and can therefore contribute completely to the growth of the industry and also hold them for a long period through manpower planning, compensation, rewards, effective recruitment procedure, selection and fair policies of promotion.
2) Professional Level: HRM ensures a better quality of work life. It helps in professional growth in the following ways:
i) Building enthusiasm in employees by giving them a congenial working atmosphere.
ii) Creating opportunities for employees so that they can develop their calibre.
iii) Ensuring that healthy relationships are maintained among team members and work is assigned properly to both employees and teams.
3) Social Level: HRM plays an important role in society in the following ways:
i) Enabling employees to live with dignity by providing them employment that gives them mental and social satisfaction.
ii) Maintaining equilibrium between job openings and applicants in terms of number, qualification, need, and aptitude.
iii) Utilizing human resources effectively by conserving their physical and mental health.
4) National Level: HRM plays a very significant role in the development of a country in the following ways:
i) Competent and dedicated human resources result in inefficient use of the physical, natural, and economic resources of the country.
ii) A nation's development depends on the skills, attitudes, and values of its manpower. Less skilled and less competent people signify an underdeveloped country, HRM ensures that the human resources of the country are skilled and developed.
iii) HRM improves the economic growth of the country. This finally leads to increased living standards and employment.