Target Marketing Meaning and Steps Involved in It
Target Marketing Meaning
Target marketing is a marketing strategy that includes breaking down the entire market into various segments and planning marketing strategies accordingly for each segment to increase the market share. This strategy is used to attract new business, increase sales, and make the business a success.
Awareness about the product amongst consumers is the basic requirement of marketing. It is the responsibility of the marketer to effectively communicate with customers to inform them about the products and services being offered by the company.
Since requirements and demands vary from individual to individual marketing planning cannot afford to be a clean sweep. The marketing planning has to have such campaigns made so that USPS (Unique Selling Prepositions) are logically communicated to the customers.
A single product cannot satisfy all customers. Therefore, due to the varying needs and requirements, it is essential to make different segments of consumers and plan for each segment separately. This process in marketing is called 'Target Marketing' which is also termed STP (Segmentation, Targeting and Positioning).
Steps in Target Marketing
After segmenting the market, the marketers have to select the segments to create their target market. This is known as targeting a target market. This makes people aware of the products. The products are placed into the minds of the customer, which is called the positioning of the product. The entire process of segmenting, targeting and positioning is referred to as market selection.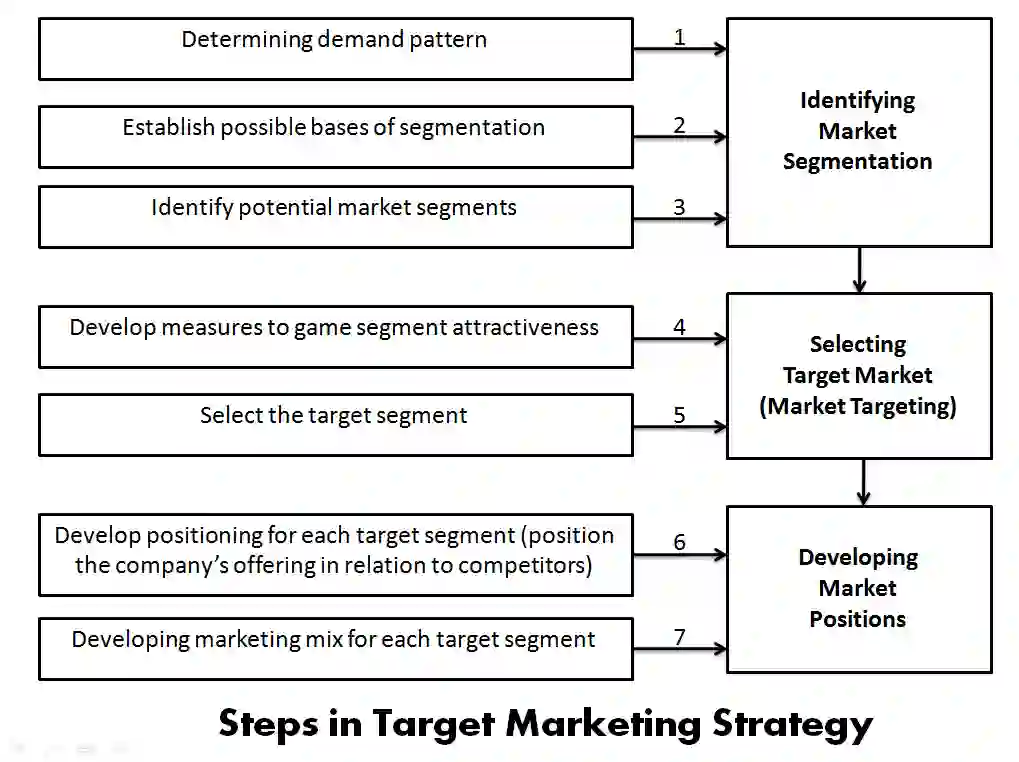 These three activities in the target marketing of market selection are as follows:
1) Identifying Market Segments (Market Segmentation)
The first and foremost action in target marketing is to locate the target markets which have not been served yet. The unsatisfied needs of such markets become the basis of segmentation.
The following three phases are involved in segmentation:
i) Analysing the pattern of demand,
ii) Determining the segmentation bases, and
iii) Identifying the available market segments.
2) Selecting Target Market (Market Targeting)
After dividing the market into homogenous segments, the marketers aim at identifying those segments for which they could develop their products.
This involves:
i) Analysing the segments to determine their attractiveness, and
ii) Selecting the potential segment.
3) Developing Market Positions (Market Positioning)
Each selected segment differs from the other one based on different types of customers and their expectations about the product.
Thus, the positioning includes:
i) Identifying possible positioning concepts for each target segment, and
ii) Developing a marketing mix for each target segment.
You May Also like :-