Table of Contents:
Meaning  of Grievance 
What is Grievance?
Grievance Definition 
Nature of Grievance 
Forms of Grievances
Causes of Grievances
Meaning of Grievance
Grievance Meaning – A grievance can be referred to as a feeling of discontentment and dissatisfaction that an employee has regarding his employment. When an employee has a complaint and is neglected, then a feeling of injustice and discrimination arises in the employee. When this feeling grows it takes the form of a grievance. Thus, it is essential to deal with dissatisfaction and for doing this organisations should take into consideration grievance management. 
What is Grievance?
Grievance management is the procedure through which the manager deals with the grievances of his employees during his service. Grievance management makes it possible to identify prospective problems of the employees. Without grievance management, the management can't deal with employee problems and respond to them. Thus, grievance management plays an important role in making organisational working relationships effective.
Grievance Definition
According to Dale Yoder, "Grievance is a written complaint filed by an employee claiming unfair treatment".
According to Keith Davis, "Grievance is any real or imagined feeling of personal injustice which an employee has, concerning his employment relationship".
As Per Prof. Julius, "Grievance is any discontent or dissatisfaction, whether expressed or not, whether valid or not, arising out of anything connected with the company that an employee thinks, believes, or even feels is unfair, unjust or inequitable".
According to the International Labour Organisation, "Grievance is a complaint of one or more workers in respect of wages, allowances, conditions of work and interpretation of service stipulations, covering such areas as overtime leave, transfer, promotion, seniority, job assignment and termination of service".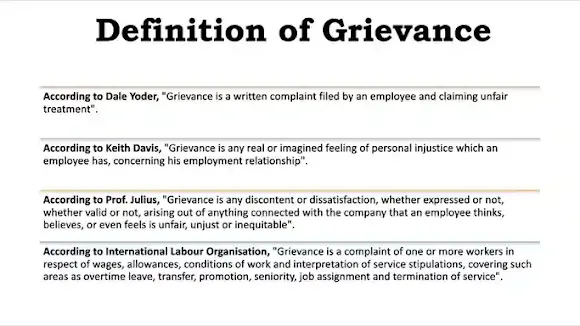 Nature of Grievance
The nature of grievances is as follows:
1) Discontent or dissatisfaction with any aspect of the organization is a grievance.
2) There can be diverse reasons for the causes of grievance.
3) It can be written or oral and expressed or unexpressed.
4) A grievance may be legal or illegal, justifiable or illogical, acceptable or unacceptable.
5) Grievance leads to frustration, dissatisfaction, unhappiness, and negligence towards work which may lead to poor morale and ultimately results in inefficiency and low productivity of employees.
6) The grievance can be regarding an individual or group of employees.
Related Article:-Types of Attitude
Forms of Grievances
Forms of grievances are as follows:
1) Factual: The relationship between employer and employee is based on the organization's employment contract. It is the employment contract that specifies the norms that define the limits of an employee's expectation from the organisation to meet his requirements and expectations.
When these expectations are not met by the organisation, the employee gets disappointed with his job. This type of disappointment is known as a factual grievance. These grievances are due to the faulty implementation of organisational policies.
For example, a salary hike is promised to employees after one year but not given.
2) Imaginary: Imaginary grievance arises when an employee is dissatisfied due to his wrong perception, negative attitude, and incorrect information. This wrong perception can have a long-term impact on the organisation. It may develop a negative image of the organisation in front of its employees which may decrease their work efficiency. Therefore, this type of grievance should be dealt with immediately.
3) Disguised: When an employee is not aware of the reasons for his dissatisfaction, then he has a disguised grievance. Generally, employees' psychological needs like the need for appreciation, friendliness, authority, success, etc., are not met.
For example, an employee who is dissatisfied with the work conditions of the company may desire some appreciation and praise from his co-workers. Hence, disguised grievances must also be given due consideration because if they are neglected, they can have harmful consequences.
Causes of Grievances
The main causes of grievances are as follows:
1) Management Practices
Grievances can arise from the following management practices:
i) Management Style
The autocratic style of management at one end and the participative style at the other may cause grievance among the workforce in an organisation.
For example, a workforce composed of extremely qualified people may not appreciate an autocratic style as in the present scenario, a participative style is more appreciated. Thus, the style and practices would need to be adapted according to the current situation.
ii) Social Distance
The relationship between the workers and the manager is characterised by social distance. This is because there may be class differences and cultural orientations between management and workers. Managers view the workers as someone who is on a much lower social scale. In such circumstances, the grievance system would not work effectively as the workers are hesitant with their grievances.
iii) Implementation of Personnel Policies
If the personnel policies do not serve the purpose for which they are formed, it may be a reason for grievance. There may be several contradictions in personnel policies that may lead to grievances, e.g., matters related to employee remuneration, seniority, overtime, assignment of personnel to shifts, etc.
iv) Communication Gap
Lack of communication between the employees and management can also cause grievances. Matters that concern the employees or group of employees should be informed to them.
For example, information about proposed actions of the management which it intends to take in the future, location of new-plant, lay-offs and merger, the key decisions about the introduction of new schemes or new ways of working. If the employees are aware of the proposed actions then they will understand the consequences of the management's actions which in turn will lead to fewer grievances.
v) Supervisory Practices
Faulty supervisory style, such as lack of consistent application of personnel policies, biasness in applying rules and decisions, etc, can create pressure on employees and could lead to grievances. 
For example, setting up challenging individual or group tasks without consulting the staff members can build pressure and cause grievance.
2) Grievances Resulting from Personal Maladjustment
Various personal maladjustment factors can lead to grievances which are as follows:
i) Employee Attitude
It has been observed that employees having a negative attitude complain frequently and are careless, casual and inconsiderate of others. They provoke others to join them and give rise to unnecessary grievances.
ii) Health Problems
Employees suffering from health issues like depression, and mental tension may find an outlet by airing their grievances. When a person is already tense due to ill health, minor concerns take the form of grievances.
iii) Impractical Expectations
In any organisation, employees having high esteem often develop overconfidence and are over-ambitious. These traits are the main causes of grievances.
3) Working Conditions
Employees may be distressed due to the following reasons:
i) Rigid production standards,
ii) Mismatch of the skills of the worker and the requirements of the job,
iii) Lack of adequate tools, machines and types of equipment to complete a given task,
iv) Changes in work hours or techniques,
v) Poor connection with the supervisors,
vi) Bad conditions of the workplace like sanitation facilities, etc., and unavailability of drinking water, damaged workstations, inadequate
vii) Poor disciplinary system (too much or too less discipline, both are equally harmful).
You May Also Like:-

Questions:
1. Which type of grievance arises when an employee's perception is based on wrong perception?